Specialty fabrics to meet your needs
Our capabilities
At TenCate, we're proud to offer our customers numerous choices in fabric formation including weaving, knitting, coating and needle punching yarns which may be monofilament, multifilament, slit tapes, or chopped staple fibers.
Our vast line of synthetic products are made from a variety of polymers, or base raw materials. Polypropylene (PP) has long been our work horse, but we also make use of polyethylene (PE) and various specialty yarns to present an unparalleled offering to the market. TenCate industrial fabrics are produced at our manufacturing plants in Asia, the US and Europe.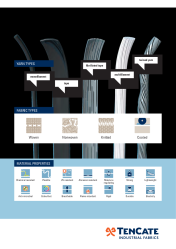 Download leaflet
Download our capabilities overview for raw material, yarn, fabric and material properties.
OUR INPUTS
Polypropylene
Many customers ask us why most of our fabrics are made from polypropylene. The answer is simple. Polypropylene yarns offer our customers the best combination of strength, durability, and economy available in industrial fabrics. Compared to most other fibers, polypropylene is longer-lasting.  Polypropylene fabrics provide maximum strength, durability and dimensional stability, while being lighter weight than their more expensive counterparts. So light that it actually floats. Polypropylene fiber provides greater coverage per pound than any other fiber. It is highly resistant to mechanical abuse and chemical attack.
Polyethylene
Polyethylene fibers have a low specific gravity, extremely low moisture regain, the same tensile strength wet and dry, and are resistant to attack by mildew and insects. These qualities have made polyethylene fiber suitable for industrial applications. Polyethylene offers a unique drapability along with a softer hand. Polyethylene is inherently UV resistant to provide durability and longevity in outdoor use.
Coated fabrics
Coated fabrics made of polyethylene or polypropylene raw materials have many advantages over other materials. The fabrics (or better: membranes) as we manufacture them have a basic structure that consists out of a high strength woven fabric with an impermeable coating on both sides. Our membranes give the best UV-protection, are rot proof, mildew proof and are resistant to vertically all known types of chemical attacks.
Specialty yarns / coating / additives
Besides our standard yarns and coatings, we also use specialty input materials for specialty applications including biobased materials like PLA or PHA. Depending on strength (e.g. pulling nets), use requirements (e.g. outdoor shade cloth), process requirements (e.g. 3D fabrics), regulation (e.g. manure storage liners) we use special yarns, coatings or additives.
YOUR SPECIALTY FABRIC
As mentioned in the introduction, we use these inputs to extrude, weave, knit, needle punch, coat or laminate specialty fabrics to serve the needs of our customers. We do that in widths up to 6m depending on the manufacturing technology or even wider when they are fabricated to size and in almost any length you want.
As you can see, there are many ways to look at a fabric. In case you have a specialty application please do not hesitate to contact us. Let our research and development teamwork with you to design a product that is perfect for your particular application. We look forward talking to you!
Contact us
Most of our products can be custom made to meet your specific needs. Do you have a question regarding a product or solution? Please contact us using the form below.
We look forward talking to you!