Winter frost protection - plant covers
Horticulture
The Toptex winter protection fabric protects plants efficiently against cold winds, extreme temperature fluctuations and the excessive, thus harmful, UV radiation resulting from the sunlight. At the same time, the vital exchange of gases is guaranteed. The controlled micro-climate maintains the plants health and safety.
The main benefits of the Toptex winter protection fabric can therefore be listed as creating barrier against wind chill and UV radiation, thereby nullifying temperature extremes, allowing the exchange of gases, which leaves the plants to breath and thereby avoids plant disorder. Furthermore, the Toptex winter protection fabric provides necessary light absorption while also allowing water absorption: whether laid on the ground or in the tunnel method, precipitation is carried within the fabric.
Click here to go to the Toptex Frost Protection Cover web page.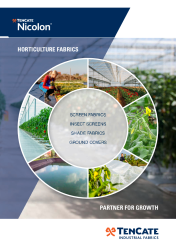 Download our brochure
Download our brochure for a comprehensive overview of our products.

It looks like the form is blocked by your ad blocker. Please disable your ad blocker for this website and try again.