Nicolon ground cover fabrics
Horticulture
TenCate Nicolon focusses on the high end of the market for ground covers with tailor made high strength low strain fabrics. The product is only available in a white colour for the professional market.
Nicolon ground cover fabrics control weeds found in land maintained by professional growers and landscapers. The white ground cover fabrics feature woven polypropylene that allows water and nutrients to pass through while preventing roots from implanting into the soil.
White Nicolon ground cover fabric has the following unique properties:
High strength in both length and width direction in combination with low elongation, ensure long term
High reflective properties, ensuring optimal light reflection into the crops
High water permeability ensuring excellent drainage capacity
High UV resistance for long term use
Nicolon Ground Covers can be tailor made for your specific application upto width of 12 and length of 150 meters.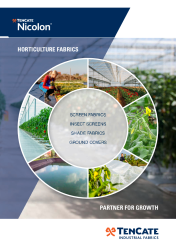 Download our brochure
Download our brochure for a comprehensive overview of our products.

Contact us
Most of our products can be custom made to meet your specific needs. Do you have a question regarding a product or solution? Please contact us using the form below.
We look forward talking to you!