Nicolon ground cover fabrics
Horticulture
Nicolon ground cover fabrics control weeds found in land maintained by professional growers and landscapers. These highly useful fabrics feature woven polypropylene that allows water and nutrients to pass through while preventing roots from implanting into the soil. Available in widths from 3 to 15 feet (0.90 x 4.5m), Nicolon ground cover fabrics can also be utilized in soil separation and barrier fencing applications.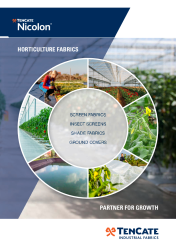 Download our brochure
Download our brochure for a comprehensive overview of our products.

It looks like the form is blocked by your ad blocker. Please disable your ad blocker for this website and try again.