Nicolon crop clearance fabrics
Horticulture
Nicolon crop clearance fabrics combine light weight with very high strength, which facilitates easy and fast cleaning of crop and substrate with very limited risk of failure during operation.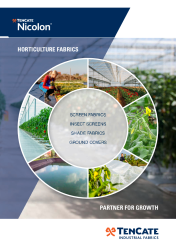 Download our brochure
Download our brochure for a comprehensive overview of our products.

It looks like the form is blocked by your ad blocker. Please disable your ad blocker for this website and try again.