Industrial fabrics for horticulture
TenCate remains at the forefront of the industrial fabrics industry by manufacturing beneficial fabrics for use in horticultural applications.
TenCate Industrial Fabrics develops a variety of  fabrics to control environmental conditions and protect valuable assets.
The Difference TenCate Horticultural Fabrics Make:
Manufactured in a variety of widths and lengths.
Fabrication to size possible.
Numerous level selections of shade, water permeability, wind flow possible.
Feature more stability than traditional shade fabrics.
Result in a higher overall production rate.
Protect crops, plants, soil and greenhouses from environmental conditions.
TenCate responds to industry needs by manufacturing a wide range of shade, ground and screen fabrics to increase your company's performance. We continue to make cost effective horticultural fabrics that deliver results.
Horticulture applications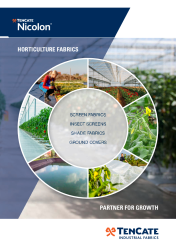 Download our brochure
Download our brochure for a comprehensive overview of our products.

Contact us
Most of our products can be custom made to meet your specific needs. Do you have a question regarding a product or solution? Please contact us using the form below.
We look forward talking to you!