Straw & hay bale protection covers
Crop farming
The Toptex fabric is a high grade membrane to protect straw, sugar beet and potato harvests from frost and rain, thereby reducing the amount of clinging clay on beets or potatoes and efficiently leading to less cleaning water needed in the process. On top of this, dried harvests offer a higher yield for the farmer and better quality for the consumer.
Toptex straw cover fabric effortlessly helps to ensure an optimum harvest quality at any given time of the year.
Toptex fabrics protect straw bales reliably against any impact caused by wind and rain, while providing effective respiration for the harvested good. Thus leading to a constantly high quality of the seasonal straw, which is preserved effortlessly throughout the whole winter period, drying off after any heavy rainfall while effectively avoiding mold development on the harvest.
Toptex straw cover fabric is produced from green, continuous polypropylene filament at 130 g/m2 (3.8 oz/yd2) and available in the following sizes:
9.8 x 12.5m (10.7 x 13.7 yd)
12 x 25m (13.1 x 27.3 yd)
9.8 x 25m (10.7 x 27.3 yd)
Convert these sizes easily to other units using this calculator.
Toptex calculator
Welcome to your interactive Toptex calculator! Here we want to support you in finding the correct size for your straw and hay bales. Just insert the number of bales you want to cover and the most fitting size will be shown to you. Please keep in mind - even if you have a large total number of bales that need to be covered- to insert a number between 80 – 200 bales as we only show the total amount per Toptex protection fabric. Multiple fabrics can then be used for larger numbers.
Please insert the number of bales (1-200) you wish to cover:
Please enter a number between 0 to 200.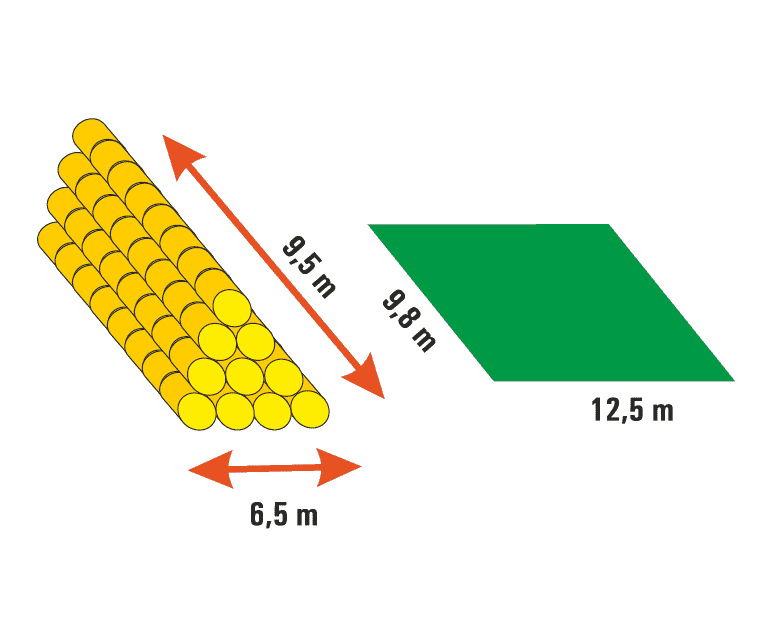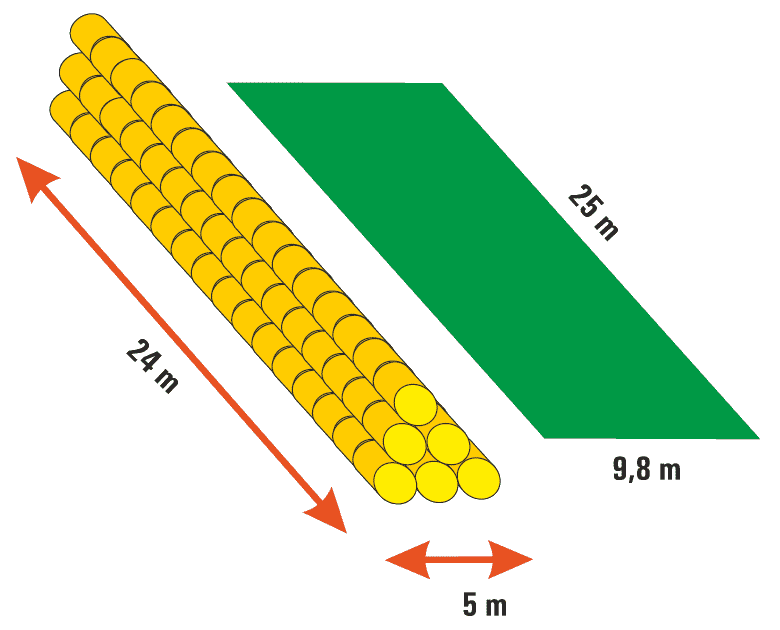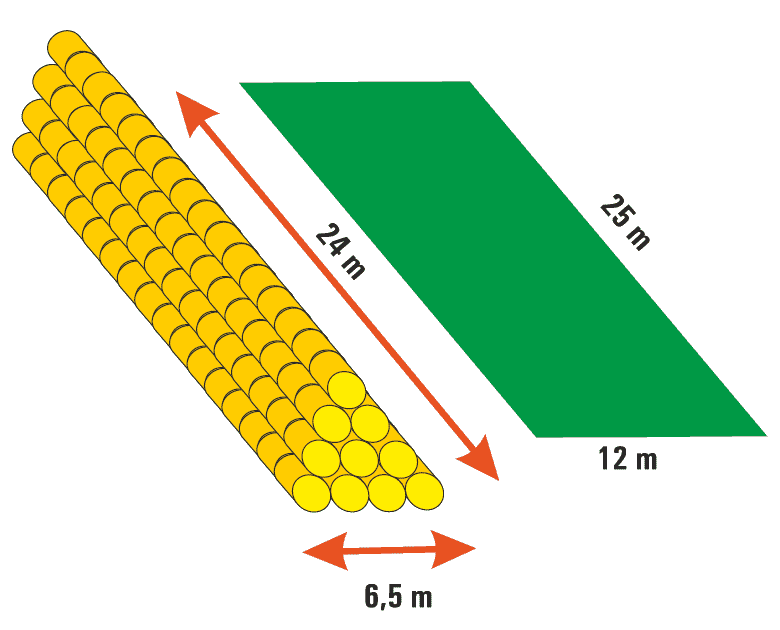 Straw and Hay covers
Toptex fabrics protect straw, hay & cereals from varying weather conditions that could possibly affect the quality of the harvest. By protecting your valuable harvest, a secure Toptex coverage prevents a significant loss of volume of the harvested goods due to rain leaking into it and consequently decreasing the production outcome and thereby the farmers yield on the harvest. It also prevents the loss of quality that would otherwise not only affect profit but also considerably lower the products image and the costumers satisfaction.
A secure coverage using Toptex ensures thereby the continuously high quality of the straw & hay bales and keeps costumers happy and returning in the consecutive years.
Main benefits of Toptex straw & hay covers
Toptex ensures the effective protection of any kind of straw or hay bales (round & square) for a prolonged period of time.
The outstanding benefit of Toptex straw covers are their high water shedding ability which effectively maintains the straw bales properties at a high quality level when storing straw bales outdoors for prolonged periods of time. Additionally, Toptex straw covers are highly resistant to wind lifting.
Toptex straw covers have also high values when it comes to proven tensile strength and tear resistance, (including but not limited to strong wind). This combined with quick drying properties even after heavy rainfalls make Toptex straw covers a highly valuable application for outdoor storage.
The UV Stability of Toptex straw covers is guaranteed for at least 3 years life-span, but can be prolonged when stored indoors during the period of non-utilization.
Setup

Installation of the Toptex fabric should always be at least around 45° degrees and very tightly adjusted to avoid loose "wavy" appearance leading to minor protection or leakage.
Toptex cover usage to protect cereals
Toptex fabrics also safely protect Cereals from Contamination. This secure coverage prevents thereby the loss of volume and possibly even quality to to due to potential contamination resulting from birds' excrements, dust and other objects.
Another possibly damaging impact that might affect the valuable crop harvest is water condensation. Water condensation accumulating within the harvest would inevitably lead to a significant quality decrease and a thereof resulting poor performance economically. Consequently, a secure coverage with Toptex protection ensures the continuously high quality of the cereals because it remains permeable to air and vapour, avoiding the heating up of the grain. Also, it is a ventilation-proof storage while also providing a certified food compatibility and comes handy with an easy set-up and handling of the fabric.
Toptex Straw Covers
See how TenCate Toptex straw covers are used to protect straw bales reliably against any impact caused by wind and rain, while providing effective respiration for the harvested good.

Download Toptex Documentation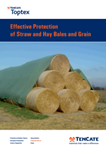 Toptex Straw Cover Protection
Download PDF

Toptex Installation Straw Protection Cover
Download PDF
Contact us
Most of our products can be custom made to meet your specific needs. Do you have a question regarding a product or solution? Please contact us using the form below.
We look forward talking to you!