Nicolon sunshading Alu screens
Horticulture
Nicolon sun shading Alu screens are made from polyester yarns, aluminum film and a polyester film and give a maximum of both shading  and energy savings in combination with a long life time. The product is available in a flame retardant and a non flame retardant version.
Nicolon sun shading Alu screens:
Combine energy saving and shade control
Create an optimal reflection because of the Aluminum tapes
Regulate the moisture content effectively
Can be used during both day and night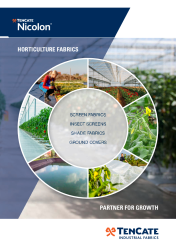 Download our brochure
Download our brochure for a comprehensive overview of our products.

It looks like the form is blocked by your ad blocker. Please disable your ad blocker for this website and try again.