Nicolon light diffusion screens
Horticulture
Nicolon light diffusion screens are made from polyester yarns and a polyethylene tape and give a maximum of both light diffusion and energy savings in combination with a long life time. The product is available in a flame retardant and a non flame retardant version.
Nicolon light diffusion screens:
Create a diffuse light for a uniform yield
Regulate the moisture content effectively
Allows for deep penetration into crop and leaves
Create a better working climate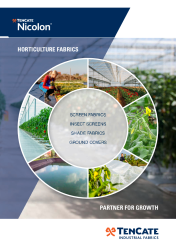 Download our brochure
Download our brochure for a comprehensive overview of our products.

It looks like the form is blocked by your ad blocker. Please disable your ad blocker for this website and try again.