Nicolon black out screens
Horticulture
Nicolon black out screens give total darkness in the green houses. The screen is made from polyester yarns and polyethylene tapes and is available in both flame retardant and non flame retardant.  This product is available as a two layer screen in a white / black and a black / black configuration and combines total black out with excellent energy saving.
Nicolon black out screens:
Create complete darkness in your greenhouse
Have excellent energy saving properties
Regulate the moisture content effectively
Will strongly reduce the light emission to the environment
Will give a uniform yield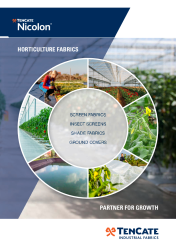 Download our brochure
Download our brochure for a comprehensive overview of our products.

It looks like the form is blocked by your ad blocker. Please disable your ad blocker for this website and try again.