Nicolon windbreak nets
Horticulture
Nicolon windbreak nets protect your crop, are robust, flexible and light weight and therefore easy to install. The nets ensure that most of the wind is stopped. In addition to the wind reduction, the wind net also creates shade.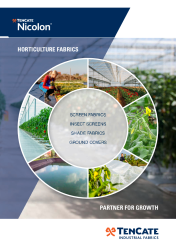 Download our brochure
Download our brochure for a comprehensive overview of our products.

It looks like the form is blocked by your ad blocker. Please disable your ad blocker for this website and try again.