Solar shade - mesh fabric screens
Horticulture
Nicolon Shade Cloth Fabrics shade horticultural plants grown in commercial nurseries and greenhouses.  Manufactured in widths ranging from six to 17 feet (1.80 to 5.20m), Nicolon shade cloth fabrics add beneficial cover for agricultural crops and livestock and can also function as industrial debris nets.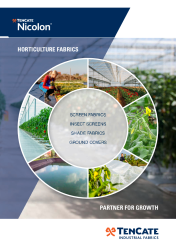 Download our brochure
Download our brochure for a comprehensive overview of our products.

It looks like the form is blocked by your ad blocker. Please disable your ad blocker for this website and try again.