Insect screens - mesh systems
Horticulture
Nicolon insect screen fabrics feature woven polyethylene developed specifically for use in insect screening and bee cage applications. This unique fabric protects against and confines insects. Available with opening size dimensions ranging from 11 to 56 mils (0.3 to 1.4mm) and manufactured in six foot widths (1.8m), Nicolon insect screen fabrics shield against insects in a variety of applications.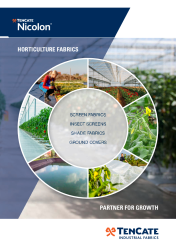 Download our brochure
Download our brochure for a comprehensive overview of our products.

It looks like the form is blocked by your ad blocker. Please disable your ad blocker for this website and try again.