Nicolon hail protection nets
Horticulture
Nicolon hail protection nets give optimal protection against hail and wind and at the same time protect against insects and birds. The nets come in a width of 4 or 5 meters. Advantages are light weight nets, robust and firm and easy to install. Please contact us for more information.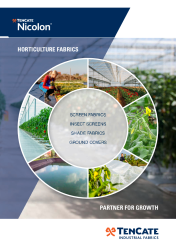 Download our brochure
Download our brochure for a comprehensive overview of our products.

It looks like the form is blocked by your ad blocker. Please disable your ad blocker for this website and try again.